Rotherham children's chief Joyce Thacker on sick leave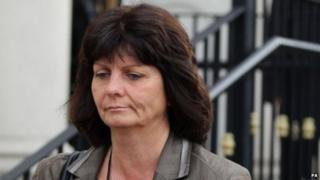 The beleaguered children's services director at Rotherham Council, Joyce Thacker, has gone on sick leave.
The council's leadership had been accused of "blatant" collective failures in a report detailing the sex abuse of hundreds of children mainly by gangs of men of Pakistani heritage.
Keith Vaz, the Commons Home Affairs select committee chairman, has called on her to resign.
The council confirmed Ms Thacker's sick leave but refused to comment further.
Report author Professor Alexis Jay said senior managers had "underplayed" the scale and seriousness of the problem and police also failed to prioritise it.
She insisted that, given her findings, "nobody could say I didn't know".
After appearing before the House of Commons Home Affairs Select committee that was investigating responses to the sex abuse Ms Thacker refused to leave her job.
Sick leave 'fudge'
It is understood she is on leave on her usual contractual terms.
The news of Mrs Thacker's absence emerged after Steve Pick was installed as interim South Yorkshire police and crime commissioner (PCC) to replace Shaun Wright, who resigned earlier this week following three weeks of pressure for him to step down.
Keith Vaz said the sick leave was "a fudge".
"Joyce Thacker seemed to be in perfect health when she appeared before the Home Affairs Committee nine days ago," he said.
"The temporary absence of Ms Thacker from her desk at Rotherham Council is not the fresh start that the victims deserve.
"Ms Thacker should take note of the other resignations and follow suit, and if she does not, then Rotherham Council should make the decision for her."