New £22m South Yorkshire fibre broadband deal signed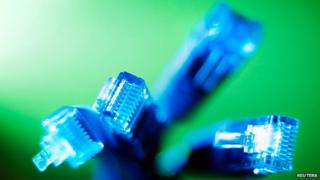 A £22m deal has been agreed between BT and councils in South Yorkshire to extend the availability of high-speed fibre broadband in the region.
It comes just over a year after the £90m, publicly-funded, Digital Region project was scrapped.
The new project will be jointly funded by BT and Sheffield, Rotherham, Barnsley and Doncaster councils, with local authorities paying about £7.5m.
It will make fibre broadband available to 98% of homes and businesses by 2017.
Steve Houghton, leader of Barnsley Council, said the deal was a "huge step forwards" for South Yorkshire.
'Future success'
He added: "We'll increase fibre broadband coverage across South Yorkshire, taking it from the current 80% to around 98% by the end of 2017.
"Private sector investment from BT is helping us to make this £22m project happen."
Bill Murphy, managing director at BT Group, said: "Superfast broadband is a key part of the present and future success of the whole of South Yorkshire."
Launched in 2010, Digital Region was funded by the European Regional Development Fund, the now-defunct regional development agency Yorkshire Forward and the four South Yorkshire local authorities.
However in July 2013 the government said it had been "deeply flawed" and revealed only 2.7% of Digital Region's required 108,000 customers had signed up.
Infrastructure installed for the Digital Region project was sold to fibre optic infrastructure firm Zayo Group for an undisclosed fee.