Eric Codling remembered by inaugural Ride for Eric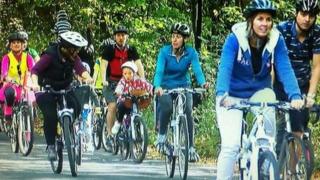 About 350 cyclists have taken part in the inaugural Ride for Eric to mark the life of a cyclist killed by a woman convicted of dangerous driving.
Eric Codling, 55, a father of two, was killed by the car driven by Emma Egan, 26, on Whirlowdale Road, Sheffield, in November.
Karen Codling, Eric's wife, said: "He's not here, there's nobody to have a hug. He was a brilliant dad."
The tribute raised money for charity and promoted a road safety message.
Cyclists rode over three routes of differing length to remember Mr Codling and to highlight the need for safe cycling.
Organiser's said next year's Ride for Eric was already being planned.
Egan was jailed for four years at Sheffield Crown Court in July after pleading guilty to causing death by dangerous driving.
The court had heard Egan was driving at about 70mph in pursuit of her boyfriend who had just jilted her.