Penistone Line runs new leaf-fall timetable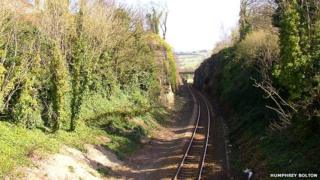 A leaf-fall timetable has begun operating on some railway services between Huddersfield and Sheffield.
Trains on the Penistone Line started running the amended timetable this week.
Services from Huddersfield will depart up to five minutes earlier than normal and those towards Huddersfield will arrive up to five minutes later.
The new times take into account the need for drivers to brake earlier and slow down on slippery tracks.
Network Rail regularly cuts back branches along tree-lined routes and has specialist vehicles that keep tracks clear during autumn.
Difficult to remove
But West Yorkshire Combined Authority, which oversees transport in the region, said the Penistone Line is a "hot-spot" for leaf fall due to the amount of foliage along the line.
Martin Driver, from the organisation, told BBC Radio Leeds: "Of all the lines in West Yorkshire, it only affects the Penistone Line.
"At this time of year people will see trains clean the [tracks] but on the Penistone Line the number of trees means it doesn't quite keep up with it.
"This is a slightly amended timetable which we are making sure people are aware of so they know what time to expect their trains."
Leaves falling on to the rails are compressed by the weight of passing trains and become slippery and difficult to remove.
It creates similar conditions to black ice on the roads.