Vincent Glazzard jailed for decade of sex offences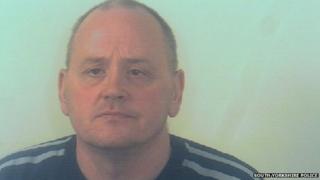 A man has been jailed after being found guilty of 11 sexual offences, including rape, against two girls.
Vincent Glazzard, 49, of Morrison Road, Darfield, South Yorkshire, carried out the offences over a decade and was jailed for 14 years and six months.
The girls were both nine years old when the offences began against them.
Glazzard was sentenced at Sheffield Crown Court on Monday after a trial lasting more than two weeks. He was found not guilty of five other charges.
He was convicted of three counts of rape of a girl under 16, four counts of indecent assault of a girl under 14, two counts of indecent assault of a girl under 16, sexual activity with a girl under 16 and sexual assault of a girl under 16.
Det Insp John Fitzgibbons of South Yorkshire Police said Glazzard's crimes were "absolutely appalling" and praised the victims and witnesses "for their strength and fortitude" during an investigation lasting two years.