Rename Bunting's Wood calls after sex abuse claims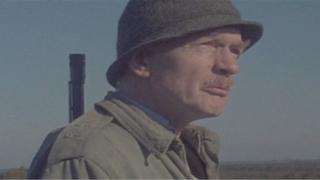 There are calls for woodland named after a 1970s conservationist to be retitled after he was accused of child sex abuse by members of his own family.
Bunting's Wood, near Thorne in South Yorkshire, was named after the naturalist William Bunting.
Forty years ago he fought to save a local peat bog threatened by plans to turn it into landfill and an airport.
Two of his granddaughters have told the BBC he abused them and say the wood should not commemorate his work.
'Hated that room'
His oldest granddaughter, now aged 50, said: "My grandfather abused me when I was a child.
"The house used to be a police station and… down one long corridor there was a room at the end absolutely filled with drums of cockroaches, it was one of his areas of research.
"I hated that room, I hated the smell. They made a kind of horrible noise.
"That's where he would abuse me."
She said the abuse happened when she was seven or eight years old.
Talking about Bunting's Wood she said: "He does not deserve any lasting recognition in that way.
"If something is named after somebody you think they're a nice person, a figurehead, a role model.
"He's the last person in the world that could be used as a role model for anything."
'In good faith'
Jeremy Sherlock, town clerk of Thorne Moorends Town Council, said: "Our actions depend on the actual allegations.
"It was named 20 years ago in good faith by a partnership programme."
The 79-acre wood contains many native species of trees including oak, ash and silver birch.
A statement from the Friends of Bunting's Wood said it was formed in 1993 as a "community resource" and later named in recognition of Mr Bunting's environmental work, particularly in relation to Thorne Moors.
"The only link between the site and William Bunting is in its name and he has never had any involvement in its establishment, management or with the volunteer group that maintain it," it added.
Mr Bunting, a supporter of the 10,000-acre peat bog habitat at Thorne Moors in South Yorkshire, now a designated area of special scientific interest, died in 1995
'Machete' claim
The BBC's Inside Out programme heard evidence of sex abuse when it set out to chronicle his environmental campaigns.
It revealed allegations his two oldest granddaughters, now aged 50 and 47 and who are children of his daughters, suffered years of abuse from him.
Professor Ian Rotherham, an ecologist and author, said Mr Bunting was "a very good, self-trained entomologist and naturalist, probably without equal."
But he added: "I have spoken to people who have been physically assaulted by him and have had a machete thrust against them almost as though they were going to be eviscerated.
"You've also got his sense of really a dark madness."
You can see more on Inside Out Yorkshire and Lincolnshire on BBC One at 19:30 GMT and on the BBC iPlayer.