Doncaster Waterfront link road work starts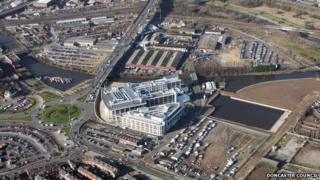 Work has started on a new road to "unlock the potential" of a waterfront development in a South Yorkshire town.
The 15-hectare site at the River Don Waterfront in Doncaster will be connected by a new link road from Holmes Market roundabout.
Doncaster Council said it would take eight weeks to complete the road, which will enable the site's multi-million pound development.
The mostly-empty plot of land is owned by National Grid.
Mayor Ros Jones said Doncaster boasts "one of the largest waterfront sites of its kind in the UK".
She said the plan was "a high quality development of residential, retail, commercial, education or leisure developments", to complement the marina.
She said the access road was vital in making the site viable, attractive to investors and for moving Doncaster and its economy forward.
Elsewhere in the town, the Civic and Cultural Quarter around Waterdale is being regenerated and a national High Speed Rail College is in the pipeline.