Peace in the Park: Sheffield festival to be held every other year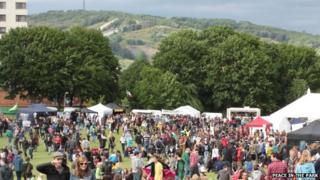 A free South Yorkshire music event, which was staged annually for a decade, has said it will now run every other year because of a lack of funds.
Sheffield's volunteer-run arts festival Peace in the Park was cancelled in 2013 because of an £8,000 funding shortfall.
The festival costs around £20,000 to run, paid for entirely by donations and fundraising and staffed by volunteers.
It started as an anti-war protest in 2003.
Organisers said eight to 10,000 people attended the 2014 event at the Ponderosa.
'Celebrate freedom'
"We've looked back to learn from our experience and considered the volunteering needed to organise the festival, the fundraising to pay for it, and the contribution by hundreds of people involved in setting up, running and clearing up," the festival organisers said.
"Our plan to make Peace in the Park sustainable and realistic is for the festival to move to a two year cycle."
The festival has been held at the Ponderosa in Netherthorpe since 2008, before which it was held at Endcliffe Park, Sheffield General Cemetery and Devonshire Green.
The organisers said the event "celebrates Sheffield's freedom and creativity" and that it has raised thousands for good causes, "promoting peace, understanding and social justice".
Davo Smith said a night-time fundraising party will be held instead on 13 June with music, stalls, bars and food. Outdoor venues are being considered for the event, but do not include the Ponderosa.
The free daytime festival will return on 11 June 2016.