Sheffield cat dies in air rifle scaffold fall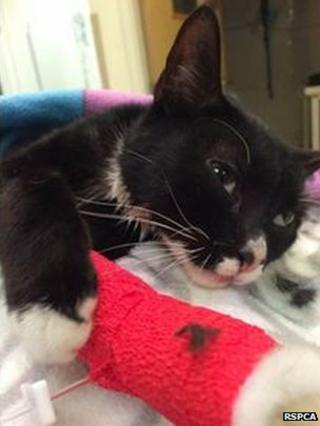 A cat has died after it was shot in the back and fell from scaffolding at a house in a "callous and cruel" attack.
The one-year-old black and white cat was found injured by a member of the public after it fell from the two-storey building on Galsworthy Road in Shirecliffe, Sheffield,
It was later put down after vets found it had been paralysed as a result of damage to its spine caused by a pellet.
The RSPCA said it was investigating the attack, which happened on Saturday.
Inspector Jennie Ronksley said: "It seems that whilst the cat was walking along the scaffolding of the house on Galsworthy Road in Sheffield, somebody has shot her.
"Sadly the pellet had badly damaged the cat's spinal column, leaving her paralysed so she was put to sleep under veterinary advice."
The charity said it had been unable to trace the cat's owners and appealed for anyone with information relating to the incident to come forward.