Barnsley Hospital Trust has £11.9m 'hole', watchdog says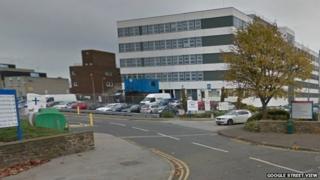 Barnsley Hospital NHS Foundation Trust has a projected £11.9m hole in its finances, a health watchdog has said.
Monitor launched a probe in April after a deterioration in the trust's financial position compounded concerns about long A&E waiting times.
The trust remains in breach of its licence on financial grounds, the regulator has reported. The trust's shortfall was £7.5m in June.
Improvements in waiting times at the hospital were welcomed by the watchdog.
Further improvement in waiting times were still needed and it would continue to scrutinise the trust's financial performance, Monitor said.
'Simply heroic'
The watchdog's statement said fewer patients were now having to wait and the trust was no longer in breach of its A&E licence. The national A&E waiting time target is for 95% of patients to be seen inside four hours.
The trust breached the national target five times in 18 months, Monitor said in June.
Paul Chandler, Monitor's regional director, said: "We stepped in at Barnsley because patients were waiting too long for treatment in its A&E department and because its finances had deteriorated so quickly.
"We are pleased with the improvements that have been made in A&E."
Commenting on the waiting time improvements, chief executive at Barnsley Hospital Diane Wake said: "The dedication and commitment of staff to improving waiting times performance has been simply heroic."
Ms Wake added the trust was implementing a plan for its "long-term sustainability" and had made £6.3m in savings, reducing the projected deficit of £20m and that the trust remained "on track to close the year with a planned deficit of £11.9m".
The hospital has more than 500 beds and was built in the 1970s. It serves more than 250,000 people in the Barnsley area.