Thahi Manaa found guilty of wife's murder in Sheffield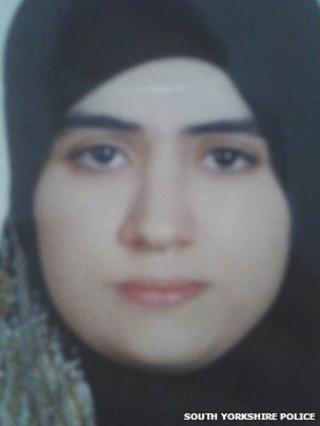 A 37-year-old man has been found guilty for the "horrific and brutal" murder of his wife at their home in Sheffield.
Sara Al Shourefi, 28, suffered multiple stab wounds and other injuries to her head and body at her home in The Oval, Firth Park.
Her body was found in a cupboard under the stairs on 4 March last year.
Her husband Thahi Harroba Manaa was convicted after a three-week trial. The jury at Sheffield Crown Court returned a unanimous guilty verdict.
Manaa has been remanded in custody until 9 February when he is due to be sentenced at the same court.
Mrs Shourefi, who had four young children by Manaa, was kept isolated by her husband as she suffered serious domestic abuse, police said.
Her family said they felt "angry and very sad" Mrs Shourefi had been "cruelly taken" from them by her husband's "selfish and violent actions".
'Breaks my heart'
In a statement, her sister said: "She was such a lovely natured person, gentle and kind.
"Thinking of the suffering she must have gone through at his hands, it breaks my heart.
"I miss Sara terribly, I would do anything to have her back.
"She will not see her children grow up and achieve their dreams, he has taken her life before she had chance to appreciate them and I will never be able to forgive him for what he has done.
"Justice has now been done for Sara and for my family."
Manaa had previously entered a guilty plea to manslaughter on the grounds of diminished responsibility, but this was rejected by the Crown Prosecution Service.
Det Ch Insp Zaf Ali of South Yorkshire Police said Mrs Shourefi had suffered in silence, believing it was "not culturally right to speak to the police or medical professionals against her husband".
He said: "This was a horrific and brutal attack on a woman that has left four young children without their mother and a family completely destroyed."