Woman in Rother Valley Country Park lake rescue after falling through ice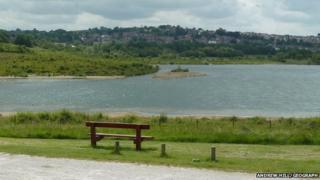 A woman who fell through ice on a frozen lake while trying to rescue her dog was plucked from the water by a fire crew on a training exercise.
The woman plunged through the ice at Rother Valley Country Park, Sheffield, while trying to help her dog.
She was rescued by firefighters taking part in water rescue training at the park on Monday.
A South Yorkshire Fire and Rescue spokesman urged people to stay off frozen water.
The woman was "close to exhaustion" when she was pulled from the water.
Spencer Rowland, a community safety officer for the service, said: "Very fortunately local fire crew [from Aston Park fire station] were in the area doing some water rescue training.
"They quickly responded and managed to get the woman out using a throw line.
"The best advice I can give is don't go on to the ice on the lakes. If a dog does go through the ice please don't go out and rescue it. I know it is easier said than done but unfortunately it's not always as successful an ending as it was the other day."
A second woman who went on to the lake to help did not need to be rescued. The dog was unharmed.