Sheffield buses diverted over vandalism and robbery fears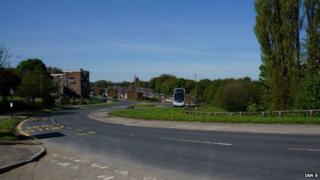 Evening bus services in the Herdings area of Sheffield are being diverted because of attacks on vehicles.
Operator First said services 47 and 48 were being changed after a number of incidents, including vandalism and attempted robberies.
After 21:00 GMT buses will not travel along Constable Road or Raeburn Road.
Police have increased patrols and are investigating incidents where drivers were threatened and one had cash stolen.
One driver, who parked up on Raeburn Road and got off his bus on Sunday, had money stolen by a group of men, one of whom was carrying a hammer.
On Tuesday, a man got on the bus and demanded money, threatening the driver with what is thought to have been an air weapon.
Before 21:00 GMT, the 47 and 48 services will run the usual route but with possible delays to avoid waiting in high-risk areas.
First said it was working with Sheffield City Council, South Yorkshire Passenger Transport Executive and South Yorkshire Police to try to resolve the problem but measures would remain in place "until further notice".
A spokesman for First said: "Both staff and customer safety is our priority and always at the heart of what we do, so our decision has not been taken lightly.
"We cannot, however, allow staff or customers to be placed in such situations."
Sgt John Mallows, of South Yorkshire Police, said: "We have put a plan in place to ensure there are extra police officers and community support officers in the area in the evenings to offer reassurance and prevent further incidents."