Ben Needham's mother Kerry in direct appeal to son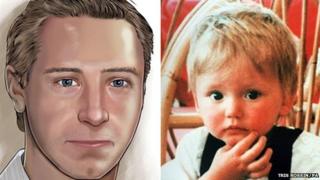 A woman whose son disappeared in Greece when he was a toddler two decades ago has made a direct appeal for him to come forward.
Ben Needham was 21 months old when he went missing during a family holiday on the island of Kos, in 1991.
His mother Kerry, 42, from Sheffield, has written a message on her website asking anyone who thinks they might be Ben to get in touch.
She tells him: "I love you just as much today as I did the day you were born."
Mrs Needham has always maintained her son is alive and was probably abducted.
'End all this pain'
Her message, which is also translated into Greek, reads: "This is a direct appeal to anyone who is around 25 years old and possibly living with a family who you look nothing like, I beg you to get in contact with me.
"I promise to cause no problems for your family who you live with, I just want you to know the truth about what happened to you and to know you are healthy and happy.
"A simple DNA sample can be taken from you without causing any distress to anyone. So, if you think you were born in 1989 and you have blue/grey eyes and a possible birthmark on your leg, YOU could be Ben!!!
"Twenty-three years have gone by Ben and I love you just as much today as I did the day you were born, please anyone get in touch and end all this pain your family feel living without you."
Separate 'sightings'
Last month, the Home Office agreed to fund a team of British detectives to help search for Ben after South Yorkshire Police asked for financial help to follow up information the family believe has never been properly investigated.
The funding is for the financial year from April 2015 and totals up to £700,000.
Ben's family want police to investigate leads, which include a file they have handed in that lists eight separate sightings from unconnected people, of a boy who could potentially be Ben with the same Greek family.
The Home Office backed a police operation in 2012 when land was excavated on Kos, near the farmhouse where Ben went missing. No trace of him was found.
Last year, a DNA test on a young man featured in video footage shot in Cyprus proved negative.