Rotherham vs Millwall football violence: Police review CCTV footage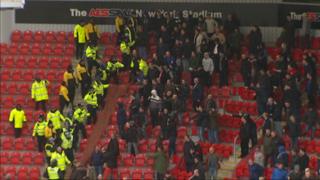 Police are reviewing CCTV footage after violence broke out at Rotherham United's match against Millwall on Saturday.
Several stewards were attacked and police officers suffered minor injuries trying control crowds at the New York Stadium.
No arrests were made on the day.
Match commander Ch Supt Jason Harwin described the violence as "some of the worst we've seen in South Yorkshire for a number of years".
'Restoring order quickly'
Rotherham fans told BBC Radio Sheffield violence flared when the home side scored a winning goal in the 85th minute in the bottom-of-the-table Championship game.
Ch Supt Harwin said about 200 Millwall fans had tried to break into the home section, attacking stewards and police.
He defended officers against criticism made by some home fans about the lack of arrests on the day and said the police's priority "was restoring order as quickly as possible".
He said: "The challenge we face when we face such significant disorder is ultimately we've got officers there that are are literally fighting with individuals to make sure first they they don't get to other supporters.
"But the second bit is obviously making sure they keep themselves safe and including the stewards in this."
"So while yes, ideally, we would like to make arrests at the time, sometimes it is just not practical to make those arrests."
In a statement, Rotherham United said they were "angered and upset at the unprecedented level of violent behaviour of some sections of the Millwall supporters inside and outside of the stadium".
The club added it was working with the police and Millwall to track down the culprits.