Royston civic hall renamed after WW1 hero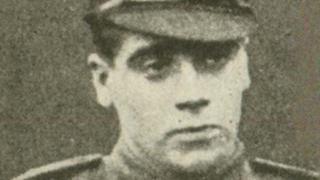 A civic hall in South Yorkshire has been renamed after a local man who won the Victoria Cross for bravery in World War One.
The hall in the village of Royston near Barnsley has become the Albert Shepherd VC Centre.
Mr Shepherd won the medal for saving the lives of his fellow soldiers during the Battle of Cambrai in France in November 1917.
His granddaughter Beverley Oakley said the family was "very proud".
The citation accompanying his Victoria Cross said he displayed "conspicuous bravery" by destroying a machine-gun post which was pinning down his fellow soldiers. He then ran more than 70 yards (64m) under heavy fire to obtain the help of a tank.
He was also awarded the French Croix de Guerre and the Belgian Medaille Militaire for his actions.
'Unassuming fellow'
Former local councillor Graham Kyte, who helped organise the renaming, said the centenary of the start of World War One was an appropriate time to commemorate Mr Shepherd's bravery.
"He was a very unassuming fellow," said Mr Kyte.
"I was told that any number of local companies wanted to engage him as a non-executive director, paid, just to have his name on their letterhead.
"But he wanted nothing to do with that. He was a miner and he went back to that."
Ms Oakley, who attended the renaming ceremony, said her grandfather never spoke about his wartime experiences.
"He was just a lovely, normal, Yorkshireman," she said.
"He didn't want no fuss."
Mr Shepherd died in 1966 at the age of 69.