Sheffield MPs secure Commons cutlery rethink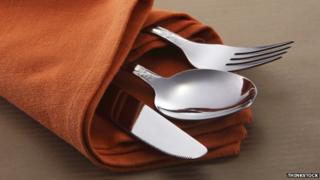 MPs from the "Steel City" have forced a rethink over plans to replace the House of Commons' silver-plated cutlery with stainless steel tableware from Asia.
The House of Commons Administration Committee said it was changing the knives and forks to save money.
But, after efforts by Sheffield MPs Clive Betts and Angela Smith, it will go to competitive tender.
According to reports, exchanging the silver-plated cutlery would save about £10,000 per year.
Mr Betts said: "After our representations, they have agreed to go about this in different way.
"Of course, they still need to replace the cutlery. But, they have now agreed that the replacement should be obtained by competitive tender and does need to be quality cutlery."
'Commons showcase'
In a joint statement the two Labour MPs said: "We want to see Sheffield cutlery in the Houses of Parliament."
Backing the call, Chris Hudson, of Sheffield cutlery manufacturer Chimo Holdings and a Freeman of The Cutlers Company of Hallamshire, said: "The House of Commons surely is the showcase for British products.
"When the Prime Minister flies to Washington he doesn't fly on Norwegian Air because it's cheaper he flies on British Airways because it's the flag carrier and I think they should do exactly the same in the House of Commons."
A spokesman for the House of Commons Administration Committee said: "The Committee agreed that this change would provide better value for money whilst bringing dining practices in-line with industry standards.
"It sought assurances that the cutlery would be of appropriate high quality and be procured through standard competitive practices, and requested that new stocks include the crowned portcullis logo."
He said it was hoped that the existing cutlery could be sold off to cover some of the cost of replacing it.