MP calls for full inspection of South Yorkshire Police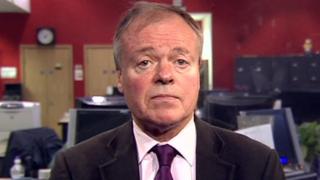 An MP has called for a full inspection of South Yorkshire Police after a former officer told the BBC the force ignored hundreds of claims by young girls of sexual abuse in Sheffield.
Documents seen by the BBC showed more than 320 men were accused of carrying out abuse, between 2007 and 2010.
Girls as young as 12 were being raped and assaulted, the former officer said.
MP for Sheffield South East Clive Betts called for "a full" inquiry and said the force needed to be held to account.
A copy of a document from South Yorkshire Police's intelligence database details more than 200 girls in the city who were suspected of being sexually exploited.
Tony Brookes, a former South Yorkshire detective, said a number of senior officers had ignored internal requests to proceed with two investigations.
The force said child sexual exploitation inquiries were complex and could take a long time.
Two former senior officers are being investigated by the Independent Police Complaints Commission (IPCC) over their handling of exploitation allegations in Sheffield.
'Pull everything apart'
Mr Betts, chair of the Communities and Local Government Committee, said: "I think it's time now for an independent thorough inspection into South Yorkshire Police and everything to do with this matter of failing to deal with child sexual exploitation over the years.
"We need the sort of inspection into South Yorkshire Police that Rotherham Council had.
"I think you almost need Louise Casey and it would be great if she would do it. Really get in there, really pull everything apart and let the public know what was going on."
A report by Louise Casey, commissioned by Communities Secretary Eric Pickles, said Rotherham Council was "not fit for purpose".
It led to the government replacing Rotherham's entire political leadership with commissioners and widespread condemnation of the council.
The Casey review followed a report by Prof Alexis Jay outlining how at least 1,400 children had been subjected to sexual exploitation in Rotherham.
---
Rotherham abuse scandal
1,400
children were abused, 1997-2013
5 resignations, including South Yorkshire Police and Crime Commissioner Shaun Wright and Council leaders Roger Stone and Paul Lakin

5 reports published since August 2014

10 South Yorkshire Police officers under investigation by the IPCC

7,000 documents reviewed for Louise Casey Report
---