Rotherham men jailed over 'staggering' weapons arsenal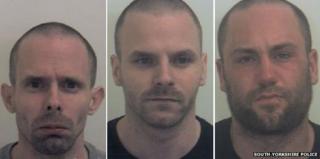 Three men have been jailed for possession of a "staggering" arsenal of weapons including assault rifles and explosives.
Brothers Robert and David Webb, both of South Crescent, East Dene and Natale Lala, 31, of Moorgate Road, Rotherham, also had balaclavas and police uniforms in a wardrobe.
Robert Webb, 32, was jailed for seven and half years for firearms offences.
David Webb, 30, and Lala were handed five-year terms for handgun possession.
The trio had pleaded guilty to the offences at an earlier hearing at Sheffield Crown Court.
South Yorkshire Police said the men were part of a "sophisticated firearms ring".
When police raided Lala's home last summer they found a Glock handgun and live ammunition.
Then, at the Webbs' home, officers uncovered an arsenal of weaponry including an automatic machine gun, a crossbow, stun gun and multiple magazines of ammunition.
Chemicals and compounds used to make explosives were also found at the address.
Two days later, an industrial unit owned by the Webbs in Whitelee Road, Rotherham, was searched.
Nitro-glycerine, often used in the manufacture of explosives, was discovered in a locker.
Det Sgt Mick Hakin said the group's "foolish" possession of nitro-glycerine put the lives of Rotherham's communities at risk.
"I think it is fair to say that nothing could have prepared us for what we found at South Crescent in July - the sheer number of bullets and array of guns was staggering," he said.