Classroom-raised fish released into Sheffield's River Don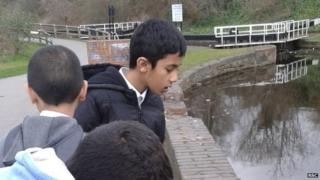 Hundreds of fish hatched from eggs in classroom aquariums have been released into the wild.
Brown trout raised by 160 children from three primary schools were placed into the River Don in Sheffield.
Hellen Hornby, of the River Stewardship Company, said the children had nurtured the fish over several weeks.
Around 400 fish will be released over the course of the conservation project, which aims to educate children about urban wildlife.
Four to 10-year-olds reared the fish from January to March, feeding them daily and monitoring water conditions.
'Water quality improved'
The fish have been released into the river near Tinsley and Meadowhall.
Usha Blackham from Whiteways Primary School said it was "fantastic for the children to learn the change from egg to living thing".
Tinsley Juniors and Brightside Nursery and Infant School were also involved in the project.
In 2013, the River Don opened the first "fish pass" in the river for more than a century, allowing trout and eels to swim over a previously impassable weir to spawning grounds.
Fish have been returning to the River Don over the last 30 years because of huge improvements in water quality.
Grayling, barble, chub and dace are among other species also found in the River Don.