Sheffield firefighters tackle 100-car scrap yard blaze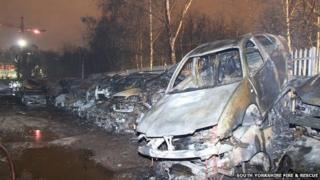 Nearly 100 cars caught fire at a Sheffield scrap yard in the early hours of Saturday.
Thirty firefighters and six fire engines were called to Deep Lane in the city at about 03:00 BST.
South Yorkshire Fire and Rescue Service remained on the scene several hours later damping down the fire.
Deep Lane, Grange Mill Lane and Grange Lane were still closed on Saturday morning and were set to reopen once the fire was completely out.