Memorial tree to remember five killed in Sheffield fire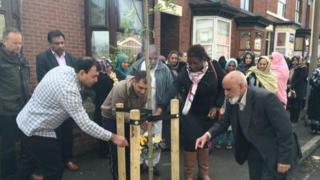 A memorial tree has been planted to mark a year since five members of the same family lost their lives in a fire in Sheffield.
Three generations of one family died in the blaze in Wake Road, on 28 April 2014, including Shabbina Begum, 53.
Her daughter Anum Parwaiz Kayani, 20, Adyan Parwaiz Kayani, nine, Amaan Parwaiz Kayani, seven, and nine-week-old Minahil Parwaiz Kayani also died.
It is thought the blaze was started by a faulty phone charger.
The memorial tree was planted on the same street where the fire happened twelve months before.