Sheffield's Steel City House to get new roof extension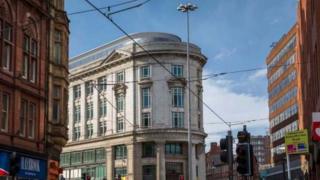 A Sheffield city centre building is to be refurbished and turned into offices with a new floor added to the roof.
The Grade II-listed Steel City House, on West Street, was built in 1927 to house a telephone exchange and post office but is currently empty.
Proposals from SDA Architects to add a new rooftop extension have been approved by Sheffield council.
The fifth floor of the building is to be removed and replaced, despite Historic England (HE) raising concerns.
HE has said the proposed roof extension would result in "harm to the significance of Steel City House".
Elisabeth Lewis, HE's inspector of buildings and areas, said: "Historic England welcomes in principle, the proposal to refurbish and convert this prominent vacant building.
"We are however, currently unable to support the proposed alterations to replace the fifth floor and formation of an additional storey."
But, a report to the council's planning committee said that the harm would be outweighed by "the positive aspects of the scheme".
The council hopes the redevelopment will create jobs within the building, securing its long-term future.