Adam Szurgocinski death: Five Doncaster men jailed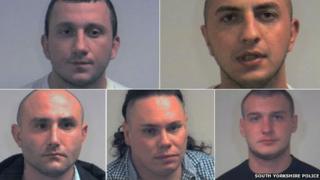 Five men have been jailed for their part in a "sustained attack" that led to the death of another man.
Adam Szurgocinski, 26, suffered a brain haemorrhage after he was attacked in Jubilee Road, Doncaster, on 14 September 2014.
The men, all from the Doncaster area, were previously charged with murder but pleaded guilty to manslaughter midway through a trial at Leeds Crown Court.
A sixth man was sentenced alongside the group at Sheffield Crown Court.
Mateusz Halabura, 25, Jaroslaw Owczarczyk, 32, and Rafal Palinski, 29 were each sentenced to 10 years and three months in jail for Mr Szurgocinski's manslaughter.
Sebastian Gurski, 30, and Pawel Wegorzewski, 20, were sentenced to nine years and three months.
Dariusz Bogusz, 32, was sentenced to 16 months for perverting the course of justice.
South Yorkshire Police arrested 16 people on suspicion of murder in the months that followed Mr Szurgocinski's death.
'Complex and painstaking'
Det Insp Sean Bird, of South Yorkshire Police, said the details of Mr Szurgocinski's death "had not been made 100% clear because the men never provided evidence at their trial".
He said the men at the scene had phoned for an ambulance but Mr Szurgocinski was pronounced dead at the scene.
Det Insp Bird said it had been a "complex and painstaking" investigation lasting eight months.
"Most of the men were from the Polish community and we needed interpreters throughout," he said.
"We relied a lot on CCTV, telephone work and witness testimony."
Five of the men were originally on trial for murder but entered guilty pleas for manslaughter after the prosecution case had finished.
"It's been a very difficult time for Adam's family," Det Insp Bird said.
"His partner Joanna was at the trial, as were other family members.
"They understandably don't feel the men's sentences were enough for the life of their partner, brother, and son."