Sheffield's new The Moor market struggles to fill stalls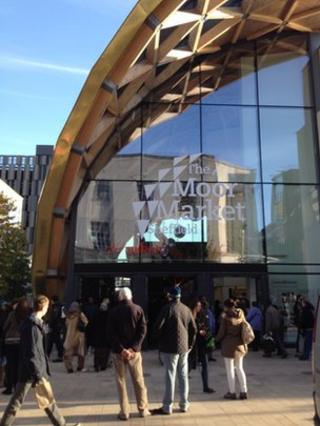 Managers of a South Yorkshire market say they are "considerably worried" for their traders, due to a number of empty stalls and a lack of visitors.
Sheffield's Moor Market replaced Castle Market in 2013, when the latter closed after trading for 54 years in the city.
There are 49 empty stalls and 54,000 people visit the market each week, when 100,000 was the original number forecast.
Sheffield City Council said the average stall occupancy rate was 75%.
Andy Ward, the council's market manager, said it was currently in a "no man's land" and he felt the market had "moved a couple of years too early".
It moved as the old site was "falling around our ears" he added.
'Dire marketing'
Leigh Bramall, deputy leader of Sheffield City Council, said more people would visit when shops, restaurants and a nine-screen cinema, were completed, in late 2016 and early 2017.
"It is inevitable that a new market will experience turnover of traders," he said.
The council had a programme to recruit traders and was looking at reducing costs for the traders, he added.
Donna Tuxford, a former market trader, said development of The Moor was "one of the biggest problems" for the market.
She ran a stall for home-made crafts but left to start her business again in a shop at Swinton, near Rotherham.
"The marketing for that place [the market] is really dire", she added.