Endangered butterflies seized in Barnsley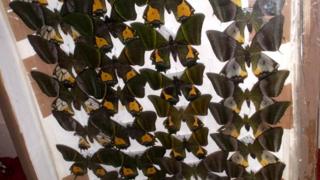 A collection of endangered butterflies has been seized by police in South Yorkshire.
About 100 were taken from a house in Barnsley after police spotted a man was trading illegally online.
Wildlife crime officers searched the property on Wednesday and found up to 4,000 butterflies, including the endangered Birdwing and Swallowtail species.
Some had been imported illegally from China, Vietnam and Costa Rica.
A 51-year-old man was interviewed and cautioned by police for the prohibited sale of protected species.
Over 20 species of butterfly are listed by the Convention of International Trade in Endangered Species, which controls the trade in endangered or protected animal or plant species.