Sheffield BIS office closure: MPs demand to see cost documents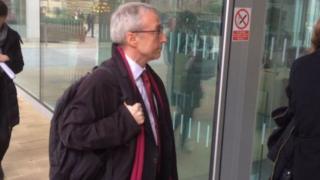 MPs have demanded to see government documents detailing the cost of controversial plans to close one of its departmental offices.
The Department of Business, Innovation and Skills (BIS) has announced plans to close its office in Sheffield by January 2018 to help cut costs.
Up to 250 jobs are at risk, though some posts could be transferred to London.
Iain Wright and Meg Hillier have written to the department's Permanent Secretary Martin Donnelly.
In the letter, they said information provided by Mr Donnelly relating to the reorganisation of BIS has been "wholly unsatisfactory" with answers in oral evidence "obfuscatory, if not misleading".
Mr Wright, who is chairman of the BIS Committee, said his previous response to MPs "simply isn't good enough".
"The permanent secretary is accountable for the use of public funds and needs to demonstrate the financial rationale and evidence-based business case for the decision to cut jobs in Sheffield and centralise policy-making in London."
Ms Hillier, chairwoman of the Public Accounts Committee, said: "Taxpayers deserve better from those working on their behalf.
"We expect the permanent secretary to respond swiftly and with clarity on the points of concern raised by our committees, which includes releasing the information we have requested.
"Only then can the decision to close the BIS Sheffield office be properly scrutinised."
Mr Donnelly replied that moving policy roles to London were part of planned savings of £350m.
The total annual cost of the Sheffield office was £14.5m, including rent, rates, rail travel for staff to and from London, hotel stays for Sheffield employees going to London, and salaries, he said.
Excluding pay, the figure is £1.5m a year.
The Public and Commercial Services union announced it will ballot its members in Sheffield for strikes in protest at the closure.
Mr Donnelly is due to appear before the Public Accounts Committee on Wednesday.