Sikhs gather in Doncaster to celebrate Vaisakhi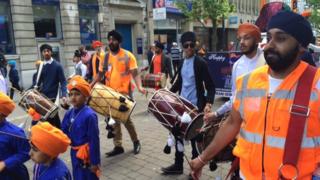 More than 500 Sikhs from across Yorkshire have gathered in Doncaster to celebrate the festival of Vaisakhi.
It is the most celebrated event in the calendar for about 400,000 Sikhs in the UK.
The celebration, in the form of a religious procession known as a nagar kirtan, paraded through the town.
The colourful display includes hymn singing, martial-arts displays and handouts of free food and showcases the religion to the wider community.
The procession finished at the Gurdwara on Catherine Street after going along Roberts Road and Baxtergate.