Further strikes over Sheffield BIS office closure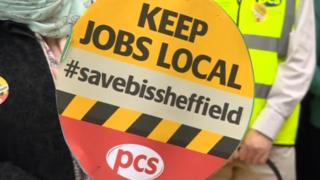 Staff at the Department for Business, Innovation and Skills (BIS) in Sheffield are staging a two-day strike over plans to shut the city's office.
The government wants to close the office, which employs 247 people, and relocate it to London to save money.
The strike by members of the Public and Commercial Services Union (PCS) follows a 24-hour walk out last week.
The BIS said the decision to close the Sheffield office had "not been taken lightly".
The union has called on BIS officials to prove relocation will cut costs and queried its commitment to the North.
Northern Powerhouse questioned
Labour-run Sheffield City Council has estimated the move would cost the government an extra £2.5m annually.
PCS branch secretary Marion Lloyd said: "How can you claim to support a Northern Powerhouse, while at the same time send 250 policy jobs responsible for its delivery back to Whitehall?
"We will continue this campaign until senior management agree a no compulsory redundancy guarantee and to keep the Sheffield site open."
A spokesperson for BIS said, after last week's strike: "The proposal to close the BIS office in Sheffield has not been taken lightly and ensuring staff are fully briefed and consulted remains a huge priority for us.
"That's why the Permanent Secretary, along with BIS officials and board members, have engaged with staff and unions closely as part of the formal consultation and ministers have discussed the proposals with both MPs and in Parliament.
"The board is now in the process of giving full consideration to responses received."
Writing in the Yorkshire Post last week, Business Secretary Sajid Javid said the Northern Powerhouse was a "serious long-term commitment" and plans to relocate the Sheffield office were "not a sign that we're hunkering down in the capital and turning our backs on the north".
He said that if the relocation plan went ahead 80 per cent of BIS staff would still be based outside the capital.