Elephant art trail unveiled in Sheffield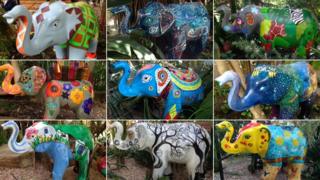 Dozens of baby elephant statues have gone on show in Sheffield as part of a charity fundraising drive.
More than 70 sculptures designed by school pupils will be on display at 11 locations until 30 September.
The project has so far raised more than £43,000 for the Children's Hospital Charity.
The sculptures are a precursor to a public art trail dubbed the Herd of Sheffield featuring 40 larger statues due to be auctioned for the charity.
Live updates on this story and others in South Yorkshire
The elephant theme was chosen in honour of Lizzie the Indian elephant who was put to work in Sheffield during World War One.
As part of the project each school was asked to contribute a minimum fundraising target of £500.
Gemma Bower, community fundraiser at the Children's Hospital Charity, said: "We are absolutely overwhelmed by the amount our schoolchildren have raised.
"They've really gone all out with their fundraising and had lots of fun whilst doing it - we're quite simply blown away by it all."