Sheffield's National Emergency Services Museum launches £20m appeal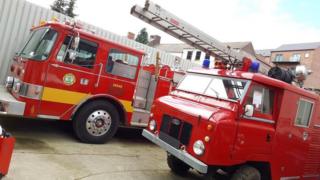 A museum dedicated to the emergency services has launched a £20m appeal to renovate its Victorian building.
The National Emergency Services Museum, in Sheffield, is housed in a former joint fire, police and ambulance station.
Matthew Wakefield, of the museum, said: "We want to put it back to how it used to be."
Opened in the 1980s it displays more than 50 historical vehicles, the oldest being a manual fire pump from 1710.
More on this and other South Yorkshire stories
Mr Wakefield, who is head of museums and collections, said the plans included renovating the stables once used by horses that pulled the emergency vehicles.
If the appeal succeeds, the building in West Bar would also be extended so more of the collection could be displayed.
The newest vehicle in the museum left service only six months ago, Mr Wakefield said.
The collection also includes exhibits from the coastguard and mountain rescue services.
The museum is largely volunteer-run and guides include former emergency services personnel.
It attracts about 40,000 visitors a year, according to the museum.