William Allen: Plaque unveiled for WWI medic hero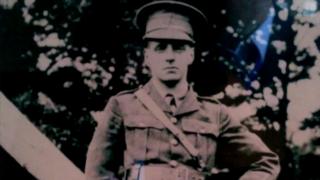 A World War One hero who was awarded the Victoria Cross has had a plaque unveiled in his memory in Sheffield.
William Barnsley Allen was given Britain's highest military honour after he treated casualties when a shell set off explosives near Mesnil in France.
The British Army medical officer was hit four times by shrapnel during the 1916 explosion, but continued to aid others until all had been attended to.
The plaque dedicated to the medic was unveiled at the Cenotaph war memorial.
Allen was born in the city and studied medicine at Sheffield University.
He was decorated for gallantry four times during the conflict and died in 1933 at the age of 41.