Westways Primary teachers strike over new head's changes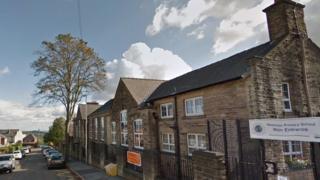 Teachers at a Sheffield primary school are striking over "excessive workload" and changes imposed by the new head.
Sam Fearnehough was brought in as executive head of Westways School in Crookes after poor Ofsted ratings.
The National Education Union (NEU) said Ms Fearnehough has made changes to the curriculum and working practices without discussions with staff.
The union said it was planning more strike action on Thursday as well as next Tuesday and Wednesday.
The school has had two "requires improvement" ratings from Ofsted since 2014 and the latest report, dated June 2016, said teachers' expectations of pupils were not high enough.
Ms Fearnehough was appointed head in summer 2017, having previously turned around under-performing schools.
She has also worked at Birley Spa, Anns Grove, Hallam and Marlcliffe Primary Schools.
At Westways, Ms Fearnehough has made changes to how teachers mark work, and imposed more scrutiny of teaching methods which some staff said attack their professionalism.
'Not school's ethos'
The NEU said pupils are facing a narrowing curriculum, reduction in early years play and less learn-through-play in Years One and Two,
Union representative Dave Pike said some staff have taken time off with stress.
But Ms Fearnehough said the changes were necessary to help children, particularly the most vulnerable and disadvantaged, achieve their potential.
In a school statement, she said she and the governors were "saddened" by the decision to strike and said most staff did not support the action.
One parent on the picket line said: "Standards is the only thing on her agenda.
"She doesn't care about the kids, she doesn't care about the parents, all she cares about is the results of this school, and that's not what the ethos of Westways is about."
Mr Pike said: "Our members know the school needs to improve; the issue is it's been forced upon them and their professional input has never been taken."
Ms Fearnehough said a meeting has been arranged, but the NEU "still refuses to call off strike action".
"Such action will only harm Westways children and families."