Councillor sorry for Question Time foodbank weight jibe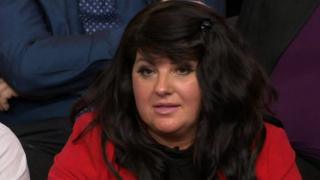 An audience member who discussed the issue of foodbanks on Question Time has said she was "disgusted" to be abused online by a Conservative councillor.
Samantha Thompson said she had felt personally attacked by Ashford Borough Councillor Graham Galpin.
His comment on Twitter about "obesity from eating too many pizzas" appeared below a post about Ms Thompson's size.
He said the comment was not targeted at Ms Thompson but he apologised "unreservedly" if she thought it was.
More stories from across Yorkshire
Ms Thompson, from Barnsley, was in the audience for the BBC One current affair panel show on 14 December, when she spoke about having previously relied on a foodbank to feed herself and her three children.
Following her appearance she was subjected to a number of online comments about her appearance, including about her clothes, makeup and weight.
Mr Galpin, a Conservative, made his comment in response to a post asking: "Why are people who rant about foodbanks always obese?"
Ms Thompson said: "It's absolutely disgraceful and disgusting.
"[After seeing his comments] I just thought: 'Are you really a councillor?'
"He did not have anything constructive to say; it was a personal attack about the way I looked."
In a statement sent to the BBC, Mr Galpin said: "The comment wasn't targeted at any particular individual - if she feels it was, then I apologise unreservedly."
However, Ms Thompson said she was not happy with his response and said she hoped to meet Mr Galpin to discuss the issue.
She said: "He has basically backhandedly said he did not make the comment about me but if I think that, then he apologises. He's twisted that around."