Student Joana Burns' legacy 'to get girls into maths'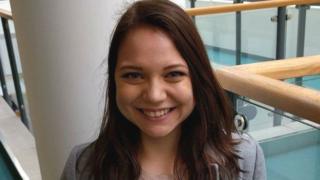 The mother of a student who died after taking MDMA has said she hopes her daughter will be remembered as more than a victim of illegal drug use.
Joana Burns died after a night out in 2017 to celebrate completing her maths degree at Sheffield Hallam University.
Mosca Burns said her daughter, 22, had hoped to go on to teach the subject.
At a workshop aimed at encouraging girls to study maths, Mrs Burns said she hoped Joana's legacy would be in "inspiring girls, not a drugs death".
More stories from across Yorkshire
Mrs Burns, from Alfreton, was speaking as about 100 schoolgirls attended the event, organised by Sheffield Hallam University's maths department.
She said: "From a personal point of view, I want something far more positive for her to be remembered for than as a drugs death, that her name will be carried on as inspiring girls to take up maths.
"[I want that] more than anything else. That's a much more positive way to remember her and much more fitting."
Joana had been marking the end of her time at university with friends at The Foundry, at the University of Sheffield's Students' Union building, on 6 June, when she collapsed.
A South Yorkshire Police report found she and her friends paid £7 each for the drug, commonly known as ecstasy.
Mrs Burns said she was still struggling to come to terms with her daughter's death and urged people not to risk their lives taking drugs.
"It's every parent's nightmare," she said.
"Even now I find it difficult to believe. It's difficult to imagine that she's not going to come home.
"[Taking drugs] is not worth the risk."
An inquest into Joana's death is expected to take place later this year.