Norcroft Colliery memorial for 'unknown' mining disaster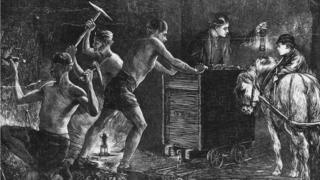 A former MP is helping efforts to raise money for a memorial to the victims of an "unknown" mining disaster.
David Hinchliffe said five men and five boys, including one of his ancestors, died in the 1821 Norcroft Colliery disaster, near Barnsley.
The former Wakefield MP said: "It's an unknown disaster, with unmarked graves, it has been forgotten."
He is hoping to raise £1,500 to fund a memorial to six victims buried at All Saints Church in Cawthorne.
The disaster saw a chain break as a group of 11 men and boys were ascending a mineshaft after a shift.
They plunged about 180ft (55m) to the bottom, with just one surviving.
Nine of the group died within a day, with the other person dying after "lingering a fortnight", according to a contemporary letter.
Former Labour MP Mr Hinchliffe said permission had been granted to put the stone memorial in the churchyard and the location of their unmarked graves were "roughly known".
The youngest who died was eight-year-old John Hinchliffe who was the eldest child of Mr Hinchliffe's great-great-grandparents.
Mr Hinchliffe, who was Wakefield's MP between 1987 and 2005, said despite the connection with his ancestor he knew "nothing about it" until he was researching his family history.
"We had a very successful fundraising evening on Friday with about 100 attendees, so we're currently about a third of the way to our target," he said.
It is hoped a memorial will be in place by the bicentenary of the 1821 disaster, he added.