Worsbrough Mill needs new flour miller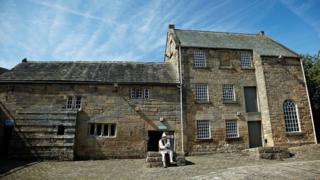 A new miller is being sought to replace the man who has for the last 20 years produced flour at an historical mill.
The 17th Century Worsbrough Mill, in Barnsley, South Yorkshire, has been milling flour since 1865, using water from the River Dove for power.
It is one of about 40 working mills in the country and is also a living museum.
Restored in 1976 and set in woodland, Worsbrough attracted more than 180,000 visitors in 2017.
Although a mill was recorded at Worsbrough in the Domesday Book in 1086, the oldest part of the current watermill dates from 1625.
Flours are still traditionally stone-ground on millstones powered by a cast-iron water wheel at the site.
Richard Moss, who is retiring, said the new appointment would "have the power of the mill at their fingertips, from the water, gears and energy, to the millstones themselves".
Those interested can find a job application on the Barnsley Council website from Friday.