Rotherham abuse: Council makes apology to whistleblower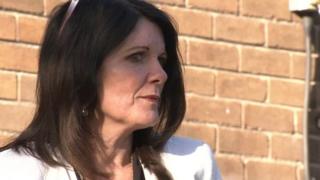 Rotherham council has apologised to child sexual abuse whistleblower Jayne Senior after an investigation into her conduct was criticised by an ombudsman.
She has been under investigation by the local authority since August 2016, after complaints were made against her.
The Local Government and Social Care Ombudsman found the council at fault for keeping her and her charity in the dark about the allegations for a year.
The council said it was "genuinely sorry for the delay" in apologizing.
Read more stories from South Yorkshire
Mrs Senior was working as a charity worker helping exploited teenagers when she helped reveal a pattern in the town that saw children groomed, raped and tortured by groups of men for more than a decade.
She is accused of making money from media appearances and of sharing information inappropriately, which she denies.
It follows complaints made by three survivors of child sexual exploitation.
Misled about complaints
The ombudsman, a body that looks into complaints about councils and social care providers in England, also ordered the local authority to apologise to her charity, Swinton Lock.
It found the charity had been misled about the nature of the complaints and had not kept it up to date after the investigation "changed focus".
The details of the complaints being investigated were not provided in writing to Mrs Senior or Swinton Lock until August 2017, a year after the investigation had started.
At least 1,400 children were subjected to sexual exploitation in Rotherham between 1997 and 2013, the Jay Report found.
Rotherham Metropolitan Borough Council said it had now apologised to Jayne Senior personally, following an apology previously given to Swinton Lock.
"It remains the council's priority that the work of the independent investigators is brought to a conclusion as quickly as possible as that is in the interest of all parties," it added.