Rotherham fracking test planning inquiry begins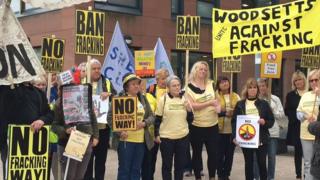 A public inquiry into fracking exploration near Rotherham has begun.
Petrochemical company Ineos wants to drill a test well at Common Lane east of Harthill.
Its initial application was rejected by Rotherham Council's planning board in January, and referred to the Planning Inspectorate.
Protestors claim the drilling will lead to environmental and safety concerns, including increased traffic and pollution.
Ineos want to dig a 2.8km (1.7mile) well to extract rock samples for testing to see if it is viable.
What is fracking and why is it controversial?
They chose Common Road because of "seismic data". Similar applications for test wells have been submitted in Woodsetts, Worksop and Marsh Lane, Derbyshire.
Ineos says exploratory digging is not the same as fracking.
Rotherham planners rejected the application in January on the grounds of highway safety, and a lack of ecological detail.
The two-week public inquiry will hear from Ineos, Rotherham Council and Harthill Against Fracking and the planning inspectorate will ultimately decide whether the test site gets the go-ahead.
Les Barlow, of Harthill Against Fracking, said: "Basically we do not want industrialisation of our village.
"We don't want HGVs up and down single track lanes used by pedestrians, horses, dogs, cyclists.
"It's just not sensible or safe."
Lynn Calder, Ineos's Commercial Director, said the firm was "very disappointed" that such a "simple" planning application had gone to public inquiry.
"This is one single application for a bore hole to extract core from the subsurface so we can start to gain scientific knowledge about what is present and whether it can be extracted," she said.
Days before the inquiry deadline, Ineos submitted a 140-page revised traffic management plan which says the site is of "very limited ecological value".
Protestors said they were "disappointed" to have little time to digest the document before amending their arguments.