Rotherham swan shot with crossbow in 'appalling' attack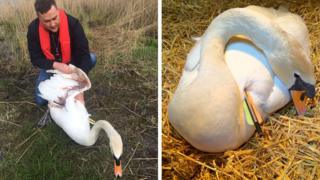 A swan is recovering after being shot with a crossbow bolt in an act of "appalling and deliberate" cruelty, said a wildlife charity.
The badly-injured mute swan was rescued from Silverwood Colliery nature reserve, near Rotherham, South Yorkshire on Sunday.
The bird was shot with a 14-inch bolt and South Yorkshire Police are investigating, said the charity.
It is being cared for by Yorkshire Swan Rescue.
The alarm was raised after the adult female swan abandoned a nest full of eggs.
Dan Sidley, from the charity, said: "To our absolute horror, we found the bird suffering in considerable distress with a crossbow bolt harpooned through her body.
"This is an act of appalling and deliberate animal cruelty.
"It is difficult for us to comprehend why anybody would deliberately harm such a beautiful bird. It's sickening".
Mr Sidley said this year's nesting attempt would probably fail due to the bird's injuries.
Mute swans are protected under the Wildlife and Countryside Act 1981, and it is a criminal offence to intentionally injure, kill or take a wild swan. Nests and eggs are also protected.
The bird is recovering at the sanctuary at Barlow, North Yorkshire, after an operation to remove the bolt was successful.
It is hoped the animal will make a full recovery before eventual release back to the wild.
Anybody with any information on the attack is asked to contact the police.