Landlord opens cinema above Telford pub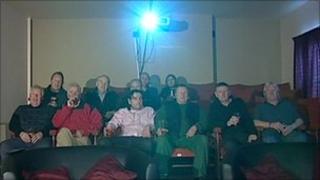 A landlord has opened a cinema above his Shropshire pub.
The Old Fighting Cocks in Telford was derelict a year ago but now up to 32 customers can have a drink and pay £4.50 to watch a film.
Licensee, David Goldingay, bought some seats from the internet and set them up in a former disused function room.
He said he believes by diversifying and opening one of the smallest cinemas is the best way to appeal to more customers.
Licensee, David Goldingay, said: "We're doing OK.
"We're just trying bringing people in from a little bit further afield.
"Give them an excuse to visit the pub and then hopefully they will come back again - not necessarily to watch a film but to enjoy good company and good beer."
He will show a mix of new releases and classic films.