Three in hospital after Codsall dental lab explosion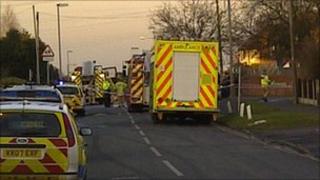 Twelve people have been hurt in an explosion at a dental laboratory.
Three women were taken to hospital following the explosion in Billbrook Road, Codsall, Staffordshire, during Friday afternoon.
A West Midlands Ambulance Service spokesman said there had been "significant damage" to the building as a result of the blast.
Staff at a nearby chemist helped people affected by the blast, thought to have been caused by a gas cylinder.
Staffordshire Fire and Rescue Service said when crews arrived they found a fire in a garage attached to the laboratory.
Stomach injuries
Police said they thought a gas cylinder on the premises may have caused the explosion.
Parents with children at a nearby school were alerted to the explosion by text message.
Tracey Howell, whose daughters were at the school, said: "It was a bit of a worry because the text message said there was an incident by the school gate but as I went up, we couldn't even get to the school. We had to go all the way round.
"The blast blew out the door and the windows, and apparently the woman inside got hit by the cylinder and it knocked her back.
"From what we hear, there's been some kind of a leak and it's exploded and blown the front of the shop off."
Police said the 12 people injured were members of staff and the incident was not being treated as suspicious.
West Midlands Ambulance Service said one woman, thought to be aged 43, had hip and stomach injuries and was flown to Selly Oak Hospital in Birmingham.
Eleven people were taken across the road to the chemist, where a treatment centre was set up.
They were all discharged after treatment at the scene but two people were later taken to hospital after suffering pain later on.