South African coach in tribute to Sir Stanley Matthews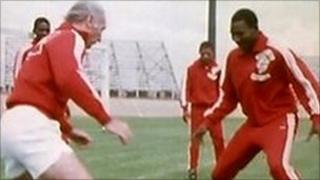 A South African coach once trained by football legend Sir Stanley Matthews has been brought to England so he can pay tribute to him.
Paradise Moeketsi was filmed during the World Cup in South Africa in 2010 saying he worshipped Sir Stanley and wanted to put flowers on his grave.
He laid a wreath on the centre spot at the Britannia Stadium, Stoke-on-Trent, on Saturday.
Sir Stanley died aged 85 in 2000. His ashes are buried at the centre spot.
Mr Moeketsi was brought to England by the Sir Stanley Matthews Foundation.
His visit coincides with Sir Stan's Day and Wear it With Pride Day - both of which raise money for the foundation, along with other charities.
Mr Moeketsi laid his wreath before the start of Stoke City's game with Sunderland.
Sir Stanley represented England 54 times and made 710 League appearances for Stoke and Blackpool and became the first player to be knighted in 1964.
He visited South Africa many times, coaching a team dubbed Stan's Men which he took to Brazil in 1975.