Stoke-on-Trent campaign group 'example to others'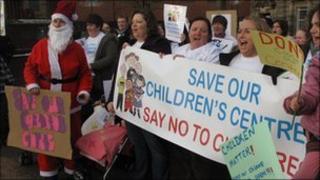 The campaign group which fought plans to close children's centres in Stoke-on-Trent is being used as an example to other groups.
The national parenting website, Netmums, is suggesting groups in other areas should take inspiration from "Save Our Children's Centres".
The Stoke group organised protests and petitions against plans by Stoke-on-Trent City Council.
The council has said it will save seven Sure Start centres.
'An inspiration'
Council leader Mohammed Pervez said at the time the council had changed its mind about the children's centre closures after considering the public level of concern for them.
It said it needed to close the centres to help save £33m but the authority has since calculated it will have to make savings of £36m next year but agreed to save the children's centres.
Emma Boote, who helped organise the campaign, said it "felt fantastic" to be an inspiration to other families across the UK.
The campaign group's story and advice for other groups now features on Netmums website.
Sally Russell, who runs Netmums, said the Stoke campaign's success was something other groups could now try to imitate.
She said: "We thought this is a model we could use so we put some information together to encourage others to do the same thing.
"It's a slow process to get success everywhere but people have realised children's centres are under threat.
"We're hoping local councils will listen. Children's centres make such a difference to parents' lives."