Breakdown company RCR warns boat owners of canal danger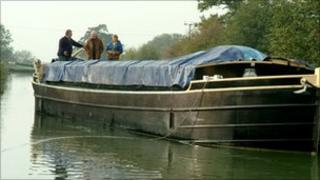 A breakdown rescue service which helps canal boat owners has urged waterways users to take the dangers of canals more seriously.
Stephanie Horton, managing director of River Canal Rescue (RCR), said the company had saved 12 boats from capsizing in the last year.
Ms Horton said, RCR, which is based in Stafford, had responded to 4,000 call-outs across the country.
She said she wanted boat owners to take particular care around locks.
Canal rescue
Ms Horton said firefighters had to help a crew whose boat had been driven against the river's bank after the current had pushed it sideways last month in Avon.
RCR's specialist unit then had to save the boat from going under.
"When you are talking about the loss of a narrow boat, you can be talking about something worth £100,000," she said.
She said that owners were usually aware of the threat of river currents, particularly in areas liable to flooding, but were often less clear about canal danger.
"The locks are the biggest problems on canals, when the spill can catch boats unaware and even tip the boat up."