Italian court threat to lorry driver for 1999 incident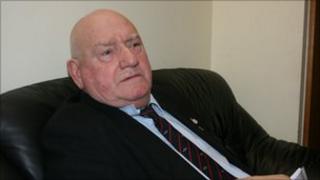 A retired lorry driver has been called to appear in an Italian court - 12 years after being held by police there.
Michael Mullen, 73, of Cheadle, Staffordshire, said he had no intention of returning to Italy as he could be jailed for up to 15 years.
The former Eddie Stobart employee was held by Italian police after four stowaways were found in his lorry.
They eventually let him go and he heard no more. He said the Italian embassy in London had advised him not to return.
'Checked lorry regularly'
Mr Mullen said he was returning from Kosovo in June 1999 and had got a ferry from Greece to Ancona in Italy.
He said he had checked his lorry regularly for refugees but was pulled over by police as he was leaving Ancona, and four Kosovans were found on board.
"I was held in custody for 11 days," he said.
"I spent three days in a cell and the rest of the time I had to stay in the lorry, which was parked at a scrapyard."
He said Eddie Stobart had provided him with a solicitor and eventually he had been allowed to leave.
"I thought it was over and done with. I was given another lorry and I carried on working," he said.
A letter from the Italian courts arrived on January 10.
Stopped using solicitor
"I nearly collapsed. I had to get it translated by a solicitor's firm who told me I had been charged with criminal activities.
"I was charged with importing illegal immigrants for a profit."
A court appearance set for 2 February was cancelled due to efforts by a solicitor.
However, Mr Mullen has since stopped using a solicitor as he says he cannot afford it. He has not yet looked into getting legal aid.
He contacted the Italian Embassy in London, which he said had told him not to travel to Italy as he could be jailed for up to 15 years or face a heavy fine.
He said he hoped Eddie Stobart would have helped him out but the company had refused.
A spokesman for Eddie Stobart told BBC News: "It is a legal matter and as such we cannot comment on it."
Mr Mullen is currently trying to contact the Home Office for advice.