North Staffs Against Cuts meet over hospital job losses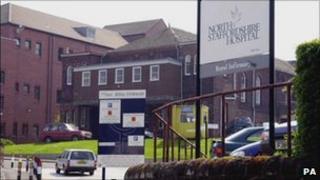 An anti-cuts meeting is being held in Stoke-on-Trent in protest at loss of 1,350 jobs at the University Hospital of North Staffordshire.
A Freedom of Information request last month showed the staff numbers are projected to go from 5,980 to 4,631 by the end of 2015.
North Staffs Against the Cuts said it wanted to highlight the cuts at a debate at Sacred Hearts Social Centre.
The hospital has said it is making savings of £36m from its £463m budget.
The trust is also has a new hospital building opening in November, the spokesman added.
No compulsory redundancies are expected, the trust has said.