Stoke-on-Trent deaf children's services e-petition signed by 400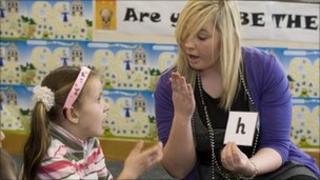 An online petition calling on Stoke-on-Trent City Council to reverse cuts in services to deaf children has been signed by 400 people in eight days.
Four of eight posts for specialist teachers of the deaf in the city have been cut over the last 15 months.
A National Deaf Children's Society spokesperson said: "The shocking reduction in Stoke-on-Trent is the worst we have seen so far."
The council claims that its provision is in line with the national average.
Councillor Debra Gratton, the city council's cabinet member for children and young people's services, said: "This leaves 15.7 full time equivalent posts (19 staff) who are skilled at working with deaf children either as teachers or as communication support workers.
"Each teacher of the deaf (after voluntary redundancies) is working on average with 43 deaf children, in line with the national average."
The city council is to meet NDCS representatives in April.
'Vital support'
At a public meeting, the Stoke on Trent & North Staffordshire Deaf Children's Society said it would lobby councilors and hold public demonstrations.
It also welcomed the rate of signatures to an e-petition against the cuts which was launched on 21 March.
Katy Evans, whose deaf son uses the services, told BBC Radio Stoke: "It's vital that my son Charlie gets this support as his speech and language is lagging behind other children his age and he's due to start school this year.
"The first day at school is hard for any child but I'm worried that now Charlie won't get the help he really needs."
The NDCS said that government figures show that 74% of deaf children in the West Midlands region fail to get grades A to C at GCSE, including English and Maths.