Soniq Studios signal the way forward for teenage bands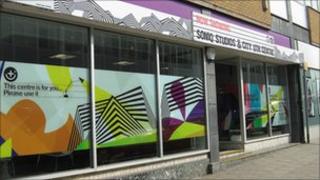 Facilities for young unsigned acts in north Staffordshire have taken a leap forward with facilities now at the Uth Centre, youth workers have claimed.
This month Uth launched its Soniq Live events, and re-opened its sister project, the Queensberry Uth Centre.
The £130,000 project in Stoke-on-Trent has been funded by the government's Youth Capital Fund Plus Programme.
"Its laid-back chilled atmosphere is akin to a coffee shop", said development worker John Simmonds.
Having partly opened in October last year, the centre is now properly operational, said workers there.
The centre aims to provide 13-19 year olds with a place to meet in the evenings as well as an opportunity for them to develop their education and interests including music.
Media suite
The centre features a meeting area, workspaces and a media suite.
The workspace houses new gaming software, and the media suite allows teenagers access to iMac computers to use for school work and for creating and recording their own projects.
"Many of the programmes on the iMacs are now cloud-based, so people can take their projects home by accessing the internet'," continued John Simmonds.
John hoped that the centre's facilities and wide-range of activities would appeal to any young person: "There's always something happening - you open one door and there's a group free-styling, in the other a graphic design class."
Soniq Live
Based in the centre, which is in Hanley, the Soniq Studios also house a rehearsal room - which can be used for live recordings.
The studios' spin-off, the Soniq Live nights, launched on 10 March at The Underground Club in Hanley. Two local bands, In The Cards and From WThin, appeared as support to Ipswich band Underline The Sky. The next event is an urban night at the end of April.
The centre offers a range of courses including tuition in music production, how to write a screenplay and use graphic design software.
"Some find it difficult to get engaged in school", said John. "These courses allow young people to get back into education".
The weekly jam sessions for musicians give young people "the confidence to perform", he said.