Churnet Valley Railway offers £400,000 share issue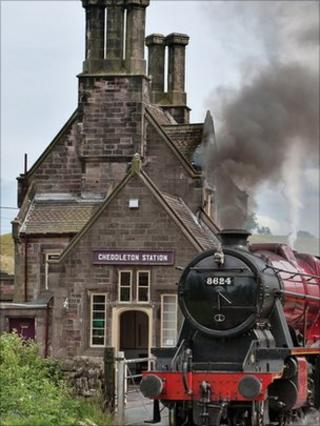 The north Staffordshire heritage company, Churnet Valley Railway (CVR), has said its expansion plans depend on a forthcoming shares issue.
The tourist attraction is offering £400,000 worth of shares for sale.
Spokesperson David Cliffe said: "This is not for us to stay afloat - this to pave the way for the future."
CVR has expressed a desire to buy into the rail company that uses some of the same track as it does.
This is the third occasion on which the company has issued share options. In the past it has raised £465,000.
David Cliffe said the money would enable it to become the country's longest heritage line, as it will use half the funds it raises to buy a stake in Moorland & City Railways (MCR).
MCR controls the adjacent 20-mile stretch of disused track from Cauldon to Stoke Station.
He said: "This is a chance to be part of a railway revolution."
The remainder of the funds will pay for new catering and community facilities at CVR's base at Cheddleton Station.
The railway attracts 75,000 visitors a year.
MCR's plans are to build a new rail station in Leek, set up a service to Alton Towers, and also to connect into the main rail network at Stoke.
Last year it ran some trains on the restored line from Leekbrook Junction to Cauldon Lowe.